The Brule River C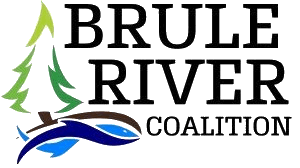 oalition is committed to sustaining a natural treasure and engaging the Brule community in seeking strategies to make good on that commitment.
One aspect of the Brule River Coalition is the Brule River Watershed Roundtable, which seeks to facilitate the sharing of technical information, strategies, programs and policies concerning the Brule River watershed.
The first Watershed Roundtable occurred on August 22, 2013.  Information from that event is available online. On October 30, 2014, a Second Annual Brule River Watershed Roundtable took place at the Lake Nebagamon Auditorium. The second Watershed Roundtable built on outcomes of the first session. A map of watershed partners, issues, and opportunities that were identified in the first meeting is being updated. The meeting outcomes from the second Watershed Roundtable can be found online.
The roundtable is a process to build partnerships for watershed protection, restoration and management. It is a results-driven forum designed to improve resource coordination and cooperation at the local, state and regional level. There is an emphasis on forming action plans to address issues identified through the facilitated dialogue and online communication tools.
Through two roundtables we have established the following critical issues:
Brule River Preservation collaborates with other organizations and individuals to address these concerns and accomplish goals.  These partners are:
Brule River Preservation
Northflow, LLC
Brule River Sportsmen's Club
Wisconsin Department of Natural Resources
West Wisconsin Land Trust
The Nature Conservancy
Wisconsin River Alliance
Trout Unlimited
Douglas County Land & Water Conservation Department
Lake Superior Research Institute
Izaak Walton League
Fishing Guide Services
Property owners
Other interested individuals
To find out more about these efforts, please visit the Brule River Coalition Page.