Invasive Cattails on the Brule: Non-Native Narrow-Leaved & Hybrid Cattail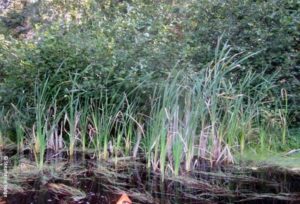 After this summer's inaugural Brule River Watershed Roundtable (August 22nd, 2013) a major concern voiced from landowners was that of invasive species. One noted culprit was that of the invasive, non-native narrow-leaved and hybrid cattail, which has become well-established in Big Lake and Lucius Lake on the Brule River. These invasive cattails cause a wide array of problems for native aquatic biota, including outcompeting and displacing native wetland vegetation.
With these issues in mind, The Nature Conservancy (TNC) led by Protection Specialist Stephanie Judge initiated and implemented invasive cattail control on the Brule. Prior to any treatment, Conservancy staff mapped and photographed all clones of invasive cattail on the Brule between County Highway S at Stone's Bridge Landing and County B, just past the Winneboujou Landing.
This baseline documentation was important for comparison of the initial treatment's effectiveness and as evidence needed to apply for an aquatic herbicide application permit.
The first series of cattail treatment took place on Lucius Lake, during the first week of September (2013). Personnel from the consultant firm, Boreal Natives, used Mark and Susan Sullivan's property as a staging area to treat the invasive cattails. Depending on if the cattails were in large clones or if they were intermixed with beneficial vegetation, they were either broadcast sprayed or a type of clamping wick was used. This herbicide treatment on Lucius Lake cost $3,000 and was paid for by the Nature Conservancy with some of the compensation funds received from the Wisconsin Department of Transportation relating to the taking of lands and their overlying conservation easement along Highway 27 as part of the ongoing road widening project.
Prior to conducting the treatment on Lucius Lake, Staff from TNC and Boreal Natives also considered tackling the cattail just upriver on Big Lake. Unfortunately, the scale of the cattail problem on Big Lake made an initial treatment in 2013 infeasible due to inadequate funding as well as requiring more expansive treatments. The worst infestation of invasive cattail covers 2 to 3 acres along the western shore of Big Lake. In contrast, all of the cattail on Lucius Lake covered less than ¾ of an acre.
It is hoped that in 2014 and subsequent years, additional public and private funding will be available to tackle the larger cattail problem on Big Lake and to conduct any follow up treatments needed on Lucius Lake.
Please note: Information excerpted from full report prepared by Stephanie Judge, TNC Protection Specialist.